SQTRs
In order to become qualified in a certain emergency services rating, you must keep a record of your training. The forms used for those records are called Specialty Qualification Training Records, or SQTRs (pronounced skeeters).
There are two types of SQTRs, and both need filled out.
The first is a paper copy. This you must print out and bring to each ES meeting in order to get it signed off. The paper copy can be filled out by the Emergency Services Team; Captain Bob McGill or C/1st Lt Jonathan Knapp.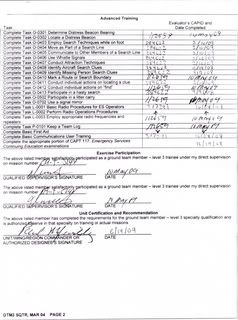 The second is on E-Services. In order to access it, you must:
Log into E-Services
Click "My Operations Qualifications" (side bar)
Click "SQTR Entry" (side bar)
Select which achievement you are working on
Fill out the applicable lines on the E-Services SQTR with the CAPID and date on your paper SQTR. (Make sure you check the box next to the lines you filled out.)
When you are done, scroll to the bottom of the page and hit "Submit".
As you complete assignments, your squadron commander, Major Twiddy, will approve your training. Once you have finished the training, the qualification you completed will appear on your 101 card.
Links to Paper SQTRs
Ground Team SQTRs
There are two types of ground team SQTRs. The first type have the acronym GTM, which stands for ground team member. There are three levels of GTM SQTRs. The lowest level is GTM 3, which covers the basic training required to be out in the wilderness on a search and rescue mission for up to 24 hours. The second level is GTM 2, which covers in depth the training in GTM 3. After completeing GTM 2, members will be equipped for a 72 hour search and rescue mission. The highest level is GTM 1. Once a CAP member has received this rating, they will be able to volunteer for any search and rescue mission of any duration, working with any other type of seach and rescue organization, including medics, trackers, canine teams, and the police. The second type has the acronym GTL, which stands for ground team leader. A ground team leader is trained to lead a ground team composed of 3 or more members from any search and rescue organization including CAP, police, canine teams, trackers, pilots, medics, and random volunteers. The mission may be of any length. The ground team leader may not be the most highly trained member of the ground team, but he will be the glue that keeps them together and makes them function as one body, as well as the one who is responsible for keeping them together and leading them on a successful mission. Because of these responsibilities, a ground tem leader must be at least 18 years old.
GTM 3 SQTR
Flight Line SQTRs
As members of the Civil Air Patrol, cadets and seniors will be interacting with pilots and aircraft. One of the things our squadron does annually is assist with the Monroe Airshow. The flight line can be a dangerous place for the untrained volunteer. Therefore, any member who wishes to participate in airshows, whether as a marshaller or as crowd control, must be trained in flight line actions and safety. There are two types of flight line ratings: flight line marshaller (FLM), and flight line supervisor (FLS). There are several marshallers at each airshow. They are the ones who direct and park the planes, assist the pilots, and set up safety zones. They will be found on hot ramps (a ramp is the term for an airplane parking lot). On each hot ramp there should be a flight line supervisor. This person helps with coordinating both ramps, the use of the runway, the fueling of the planes, and where and when marshallers should move planes. Because of this responsibility, a flight line supervisor must be at least 18 years old.
++Hawk Mountain Ranger School
Located in Kempton, Pennsylvania, Hawk Mountain Ranger School is the longest running Search & Rescue School in the nation. For over 50 years, it has provided some of the best wilderness SAR training to cadets and seniors throughout the country. HMRS is the most intense and rewarding summer activity that CAP has to offer. If you have never been to the mountain, now is your chance to become a part of the tradition. If you have already graduated from a HMRS course, attend again to further your training through more advanced courses.
The training that you will receive at HMRS is different from that of any other school in CAP. While the majority of training at most schools takes place in classrooms, here you will learn by doing all of the tasks. You will spend the duration of the school outside in the same conditions as a real mission. You will participate in a multi day field training exercise testing all of your acquired skills along with your endurance.
The first several days of the school start at 0600 hrs. You are led through physical training and the obstacle course. That is followed by a run or 3 ball soccer. A variety of classes follows throughout the day, teaching individual skills about equipment and techniques used in team searches, navigation, cutting tools, survival, and woodsmanship skills. In addition to the practical skills, leadership and character development are emphasized. Next you will begin the field training exercise. After this, the last part of the school involves testing, not just to graduate from the school, but also to earn Ranger Grade certifications which include 101 advancement. Throughout the entire school, you will be challenged to take charge of difficult situations in order to become part of a working team.
The friends you gain will remain close to you for life. There is a sense of pride, camaraderie, honor, and tradition present at this school. If you are willing to work hard, the possibilities of what you can accomplish at HMRS are boundless. Little will be easy at the school, but the challenges will be well worth your while.
For the Hawk Mountain Ranger School Ranger Grade Testing Sheets, please see; http://www.pawingcap.com/hawk/standardsandeval.htm
NCWG Ranger Training Weekend
For those interested in attending Hawk Mountain Ranger School it is highly recommended that you attend NCWG Ranger Training Weekend beforehand. NCWG Ranger Training Weekend will expose you to a minor degree of what to expect at the Hawk Mountain Ranger School.
For more information on the North Carolina Wing Ranger Training Weekend visit; http://www.ncwg.cap.gov/index.cfm?fuseaction=page.display&pageID=428
If you have any questions on NCWG Ranger Training Weekend or Hawk Mountain Ranger School, contact C/1st Lt Jonathan Knapp at gro.008nordauqs|OSEC#gro.008nordauqs|OSEC. He has staffed the NCWG Ranger Training Weekend and has been to Hawk Mountain Ranger School twice. He is currently a Ranger 1st Class in the Hawk Mountain Ranger School Ranger Grades.