Bdu Pants
Ironing Your BDU Pants in 5 Easy Steps
Althought the shirt is the most noticeable part of the uniform, pants should also be ironed.
BEFORE YOU BEGIN, TURN YOUR IRON ON TO HIGH. MAKE SURE IT IS ON STEAM OR YOU WILL SCORCH YOUR UNIFORM!!!
Step 1
Unbutton all buttons and take everything out of pockets. Make sure you do not miss anything.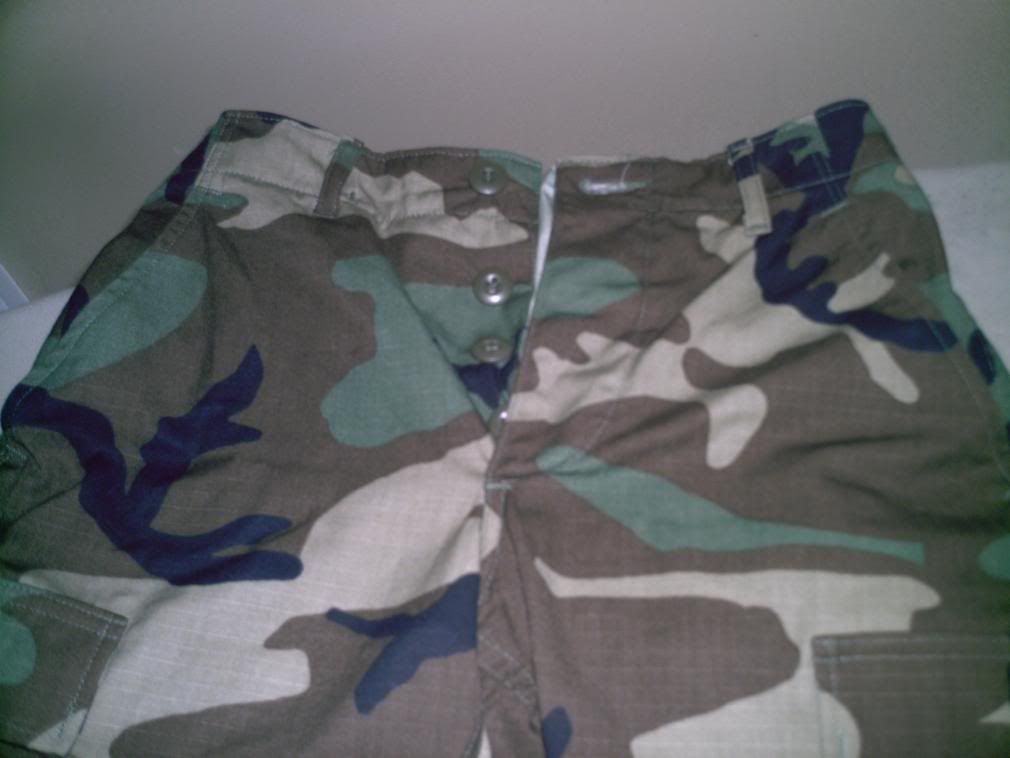 Step 2
Pull pants onto ironing board so ironing board is inside pants. The front right side should be up. Pull the pants as far up on the ironing board as possible. Iron. Be careful not to iron over any buttons. You will not be able to get all of your right pant leg on the ironing board. That is okay: just get as much as you can. Repeat on front left pant leg, rear right pant leg, and rear left pant leg. When ironing your back pockets, pull the flaps up so they are resting on your belt loops. Iron, being careful not to iron over buttons.**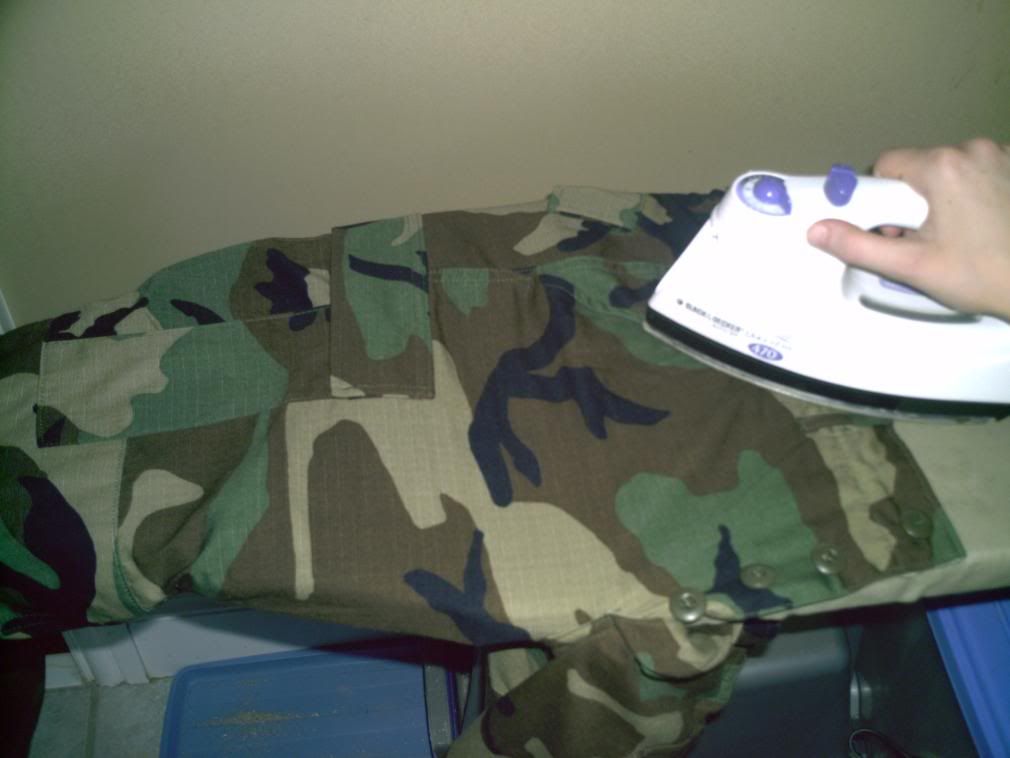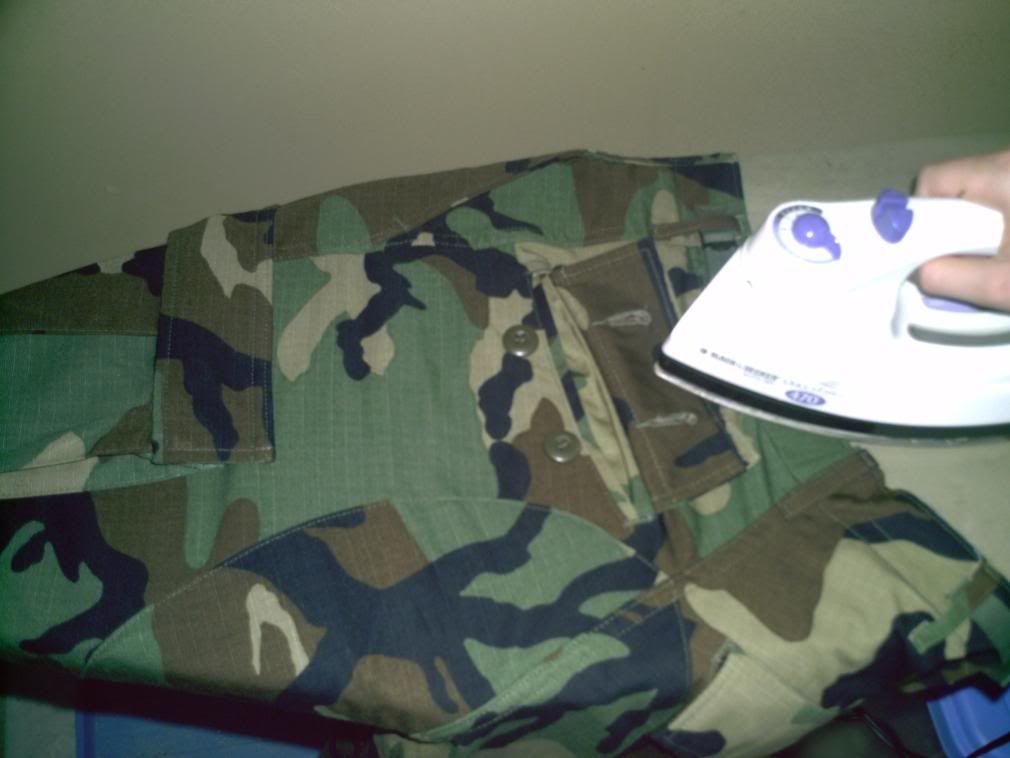 IRONING IS A GOOD TIME TO CLIP STRINGS. If you find one, pull it out as far as it will go and clip it (either small scissors or finger nail clippers will work) as close to the fabric as possible. DO NOT USE A LIGHTER UNLESS YOU WANT TO SCORCH YOUR UNIFORM!
Step 3
Pull your pants off the ironing board. See the seam that runs from the crotch to the ankle? This is called the inseam. Grab it. You will fold your pant leg in half using this seam as a guide. Fold pants, then lay right leg, front up, on ironing board. Make sure that it is laying flat, or you will iron wrinkles into the back of the leg. Iron. DO NOT iron a crease into it! Flip over and iron other side. Do the left pant leg the same way.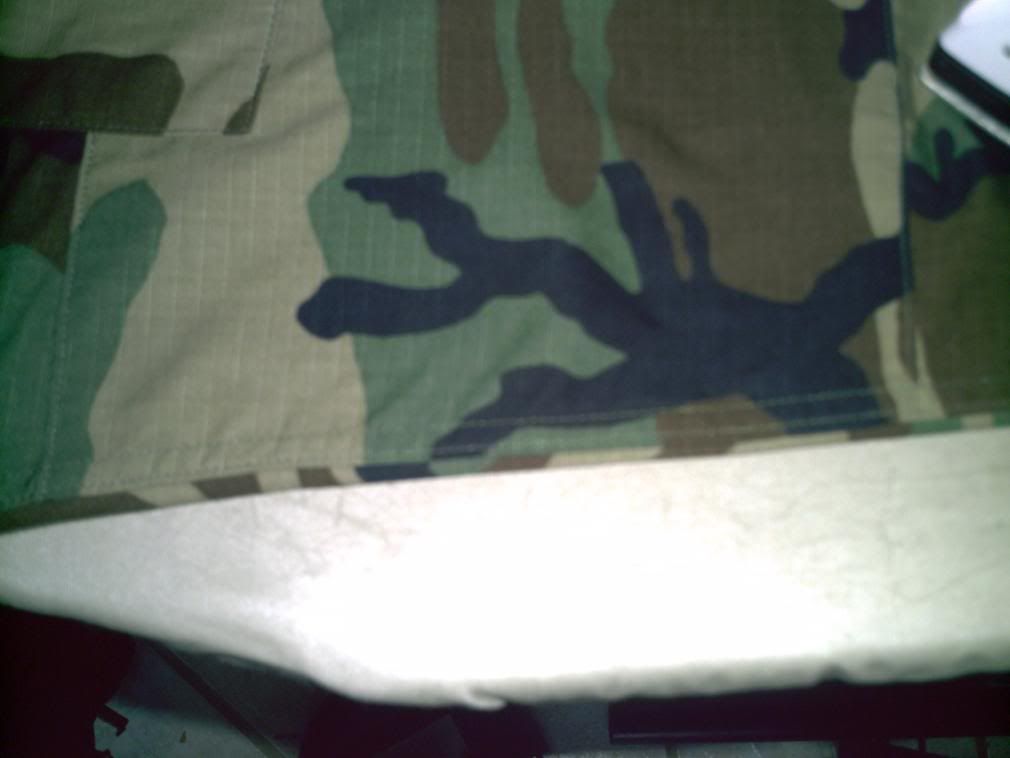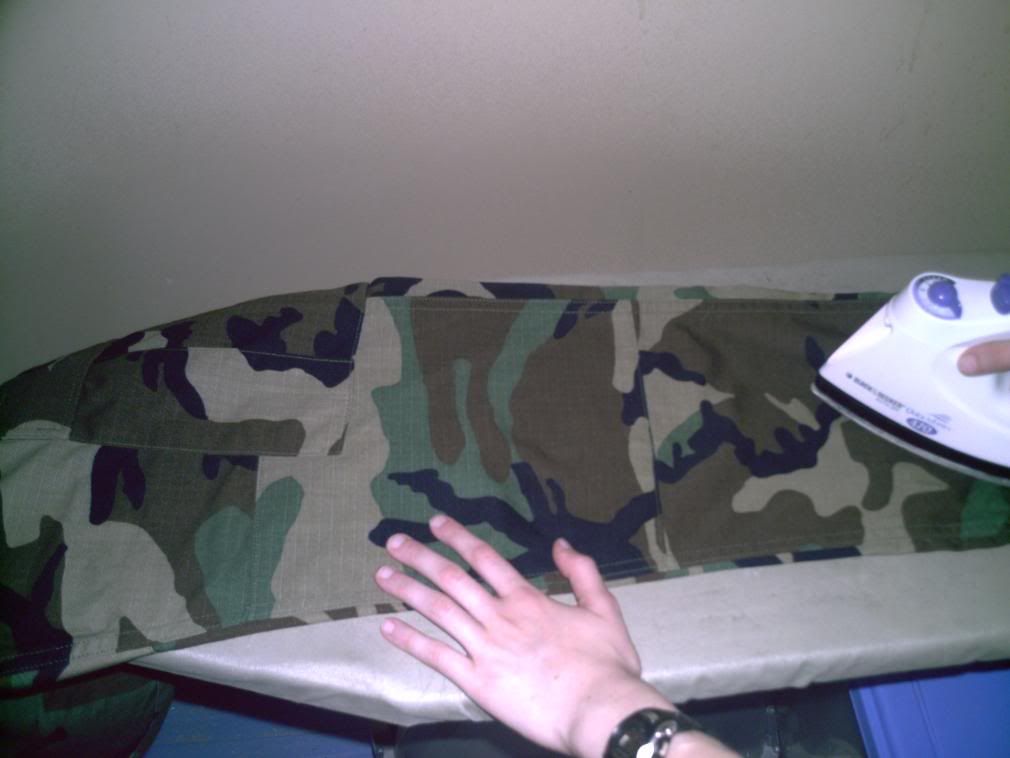 Step 4
When you get to your pockets, they must be folded. DO NOT run the iron over them and hope it looks good. IT WILL NOT! Pull the side flap open, tuck it in at the bottom so that it is flat all the way down, then fold over. Make sure the bottom of the pocket is tucked under the seam and is not hanging out. Iron.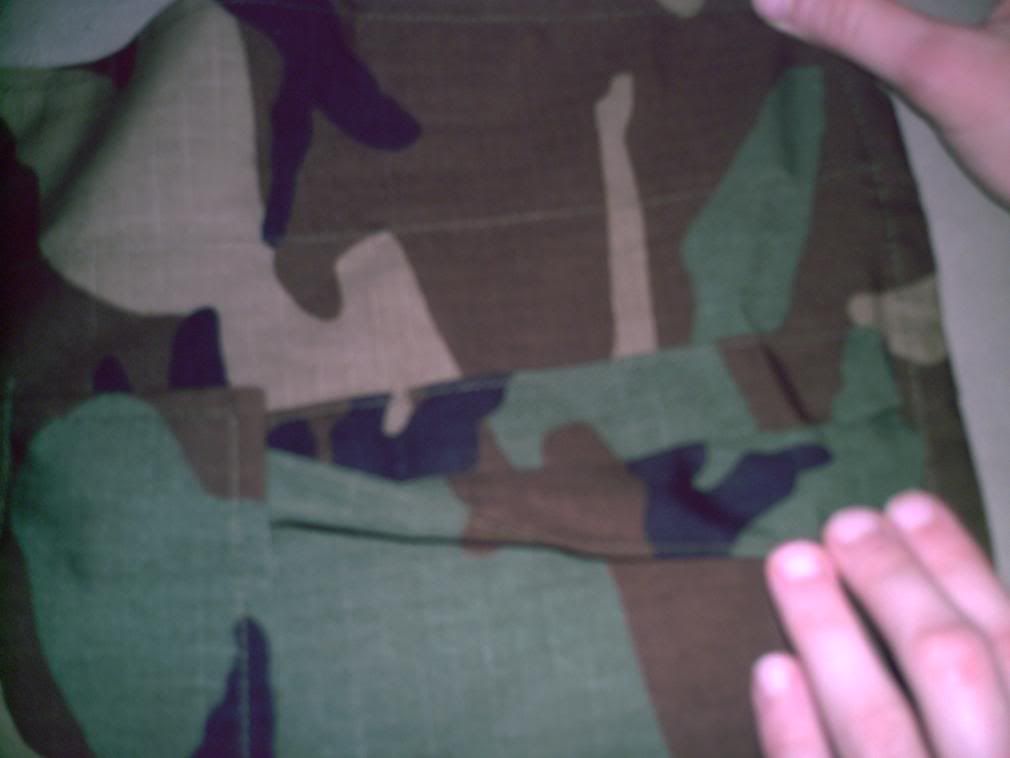 CONGRADULATIONS!! You have just ironed your BDU pants.
Step 5
To finish, button all your pockets. This way you will not get caught with unbuttoned pockets at uniform inspection. Put your pants on a hanger. If you do not, they will wrinkle and will have to be ironed again. There are two ways to hang pants: You can clip a hanger onto the ankles and hang them up, or (if you do not have room to do that) fold them over a hanger and hang them that way.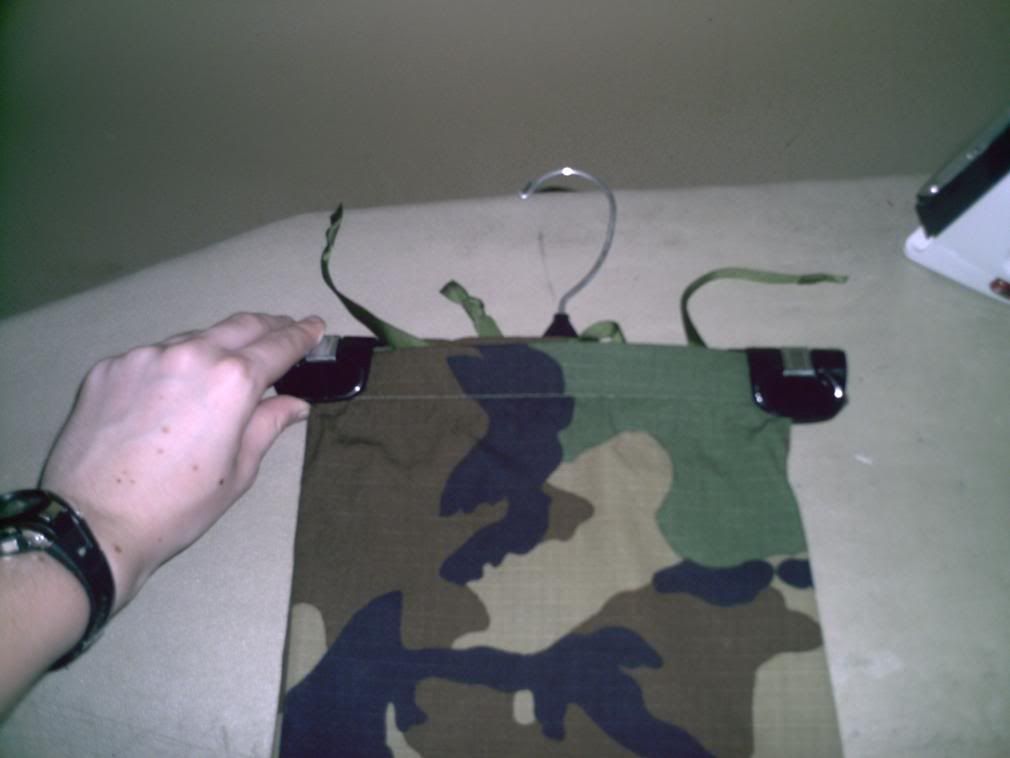 DO NOT FORGET TO TURN YOUR IRON OFF!!!